Who we are?
The company
SIMTECH, a company founded in 1992, is made of a rigorous and professional team focusing on highly skilled design & manufacturing of specific products out of coated fabrics & rubber materials mainly used in glass, bottling, defence, motorsport & other industries, including laminating solutions, flexible tanks and fuel cells, bottle & container handling solutions, rubber edging, etc.
SIMTECH is a high-performance, global-minded company that exports more than 90% of its production worldwide.
We hold several patents on its products and processes.
Simtech is also  a unique manufacturing processes that give our products strength, quality and a long service life. Our teams are also qualified to make custom products.
Among its different ranges, Simtech designs, manufactures & supplies :Flexgrip® – Inflatable Hollow Glass Handling Solutions
Flexgrip® – Inflatable Hollow Glass Handling Solutions

Flexlam® – Glass and composite laminating solutions

Flexcell® – Tanks embedded in various vehicles

Flexdrum® – Transport flexible tanks & fluid storage

Flexeng® – Custom Made Rubber Products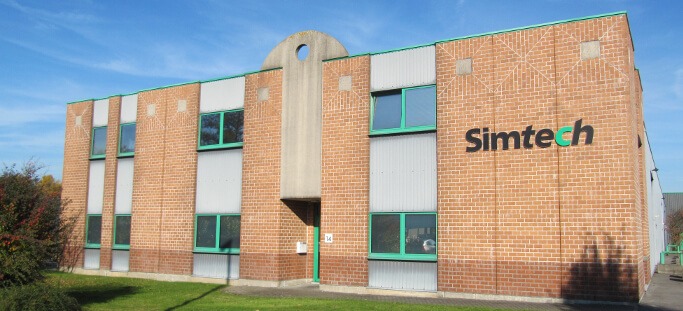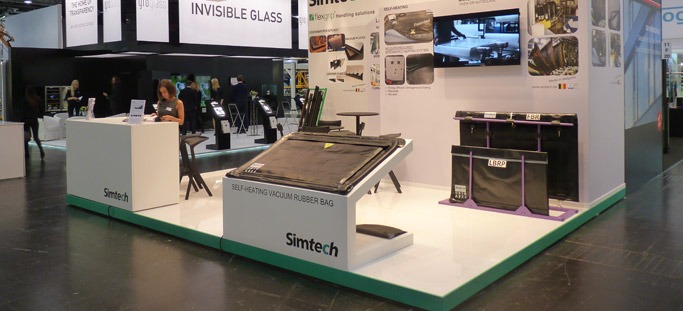 ISO
In a total quality approach, our Quality Management System is certified according to ISO 9001: 2015. The electrical equipment we sell complies with harmonized European standards: CE marking.
Simtech's flexible storage and embedded tanks are manufactured to standard
DCSEA, FIA, MIL, UN, etc …).
Research & Development
SIMTECH is also a design office to meet your specific needs, equipped with CAD / CAM means (Autocad, Catia, Solidworks …) and works in close collaboration with specialized laboratories and research centers in Belgium and Europe.
Simtech values
To found a team and lead it in the same direction, it is essential to rely on common values that constitute the corporate culture. Our values are:
Customer satisfaction
Rigour and professionalism
Team spirit
Result
Curiosity
Enthusiasm
Fun
Location
Simtech,
80km from Brussels Belgian Capital,
1h TGV high speed train + 20mn drive from Paris,
1h30 mn Eurostar + 20mn drive from London
and less than 3h drive from Amsterdam & the German border…
is located in the very heart of Europe.